Soaring Eagle Academy offers a new look at children with Autism and related disorders as individuals with great potential for interacting, communicating and thinking. As the only school to integrate Developmental Language Models and DIR®/Floortime principles, for students ages 5-21 years old, within a nurturing social and academic environment that embraces the "whole child" supporting their individual differences and learning styles, while wooing each child into engaging interaction and meaningful learning, we believe that when students comprehend and their intentions and actions are truly understood, amazing development unfolds and students soar to higher levels of learning!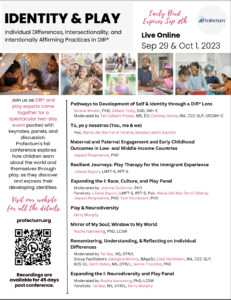 Profectum's 2023 Fall Conference
Sept 29 & Oct 1st, 2023 
SEA is proud to be a promotional partner for the upcoming Profectum™ Identity and Play conference. Profectum™ is the amazing organization that provides DIR® training to professionals and families.